Ingo Fischer completed his apprenticeship as a cook at the Donau Hotel in Ingolstadt in the early 90s. His first engagements were
in Nuremberg. During the 90s he worked at various high-class restaurants in and around Nuremberg, for example the Restaurant "Funk" in Nuremberg-Langwasser and the Restaurant "Bammes" in Nuremberg-Buch. He gained renown by being involved in the very popular Restaurant "LORENZ". Another highlight on his resume is his stint on the cruise ship Crystal Symphony, on which he previously visited the Scandinavian Peninsula. At the end of the 90s he started his own business.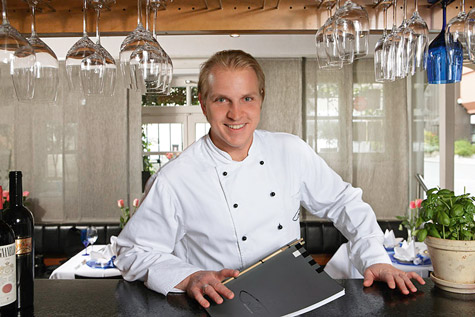 The Fischer restoration existed from 2003 to 2020 in a hidden corner of downtown Nuremberg. The historic witch's house in Schottengasse was an impressive relic of traditional half-timbered buildings, especially for travelers from other cities and countries. Ingo Fischer had earned a considerable reputation for himself over many years in the old town square from the 16th century. Not only locals, but also connoisseurs and celebrities from other cities and countries appreciated his work.
Whenever he has some time on his hands, Ingo Fischer relaxes on the golf course. For a couple of years now, this has been his favourite pastime which allows him to relax and gather new energy and creativity. As huge pet lovers, he and his wife saved two dogs from foreign dog kennels.